What is Archibus?
Facilities and physical infrastructure management is a critical business function.  Comprising 25 to 50 percent of a company's fixed assets and operating costs, facilities and infrastructure are significant resources that must be efficiently managed in order for a business to succeed in a globally competitive market.
Archibus -- a product from Eptura -- addresses these needs. With the Archibus solution, organizations of all sizes – spanning sectors such as finance, education, healthcare, government, and manufacturing -- reduce their infrastructure and facilities-related costs by using Archibus to make informed decisions that optimize return-on-investment and lower asset life-cycle costs. Moreover, efficient management of the facility and infrastructure provides a comfortable work environment that ultimately increases employee satisfaction and productivity.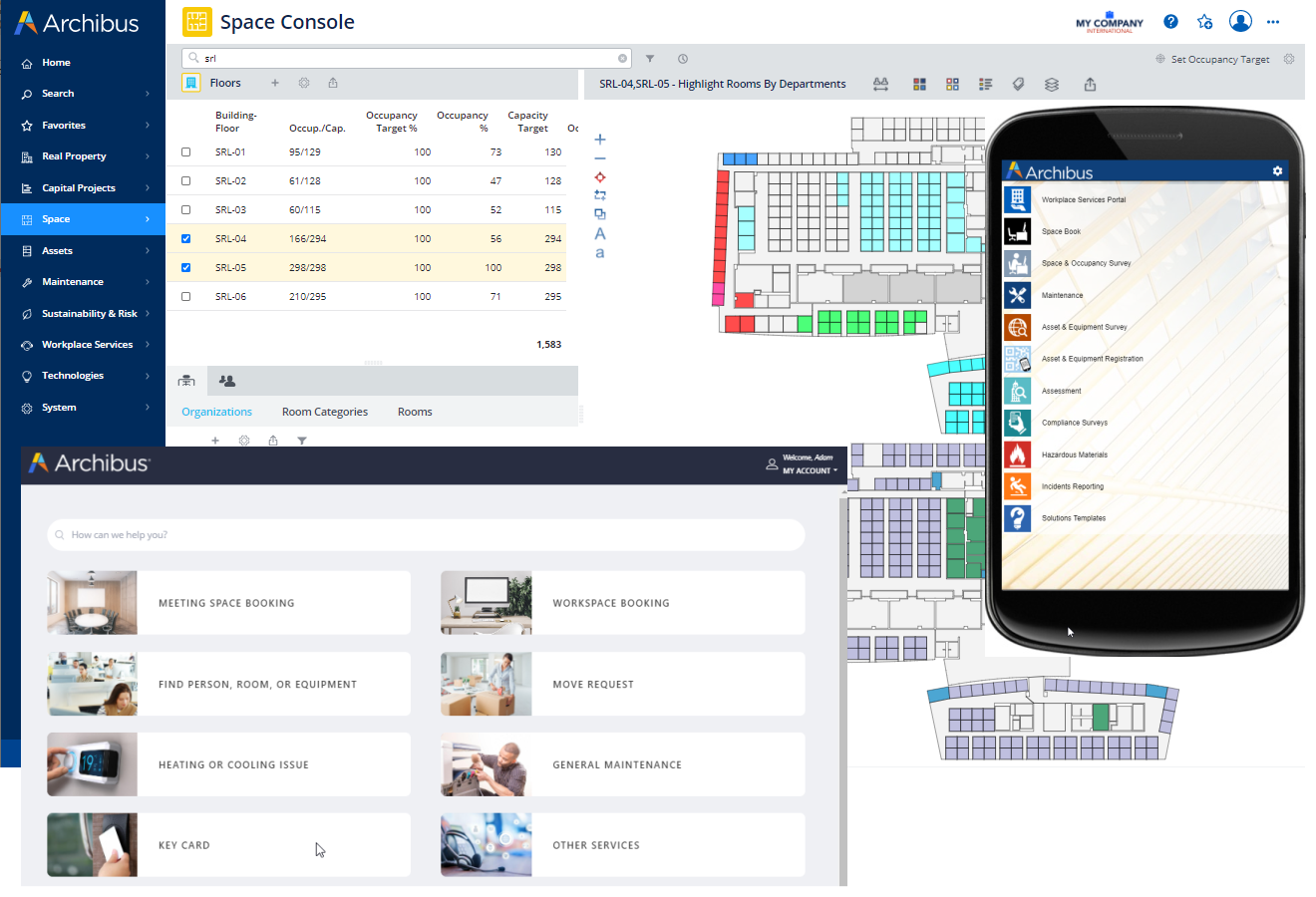 The Archibus solution addresses a full range of facilities and infrastructure issues. The following are just a few examples of how an organization's employees, as well as outside personnel, interact with the Archibus facility and infrastructure management system:
An employee reports that their office is too hot.
A telecommuter requests a cubicle for days when he works in the office.
A department manager is internally billed for the space that their employees occupy, and realizes that space can be consolidated.
A first responder accesses floor plan drawings that outlines HAZMAT areas when responding to a building emergency.
A visitor the building uses a self-service kiosk in the building lobby to locate the party with which they have an appointment.
A lease administrator highlights on floor plan drawings all the leases expiring within the coming year.
A conditions assessor travels through the building and records current building conditions using the Construction Specifications Institute (CSI) ratings.
A maintenance manager outlines the preventive maintenance tasks that must be performed daily, weekly, monthly, and annually.
A craftsperson, either an internal employee or outside contractor, updates the inventory with parts used on the job.
A move planner coordinates data from the facilities, telecommunications, and maintenance departments to organize a move that has minimal disruption to employee productivity.
An accountant calculates depreciation of furniture and equipment assets.
An equipment manager analyzes equipment failure rates.
A facility manager trying to reduce energy costs analyzes a thematic energy map of the building.
A CFO analyzes real estate portfolio information in order to evaluate a proposed merger.
The Archibus business solutions provide directed, best-practice methods for handling the complete range of facilities and infrastructure functions.  These solutions run within a unique environment that fuses database, CAD, spreadsheet, Web, document management, and workflow features into a cohesive whole. The entire application suite is wholly integrated, driven from a data dictionary, and can be configured to reflect your own business practices.
Corporations are global, and their software must likewise be able to provide far-reaching services. Towards that end, Archibus is built on enterprise-scalable technologies:
standard CAD and database technology
workflow and Web services to interoperate with the rest of your ERP suite
Web-ready interfaces for instantaneous global access to all aspects of a facility's data
a mobile framework for accessing facilities data and floor plans from mobile devices and updating data from the field.
Archibus can be deployed as follows. Both deployments use the same code base, views, database schema, and business logic.
Archibus SaaS. Hosted by Archibus with automatic quarterly software updates, the Archibus SaaS solution provides everything that most customers need to manage facilities at their site.
Archibus (non-SaaS). Provides full customization features. It can be hosted locally or by partners.
Archibus supports the below languages out-of-the-box. Archibus can be translated to single-byte or double-byte languages using its localization features.
English

German

French

Spanish

Italian

Dutch

Japanese

Simplified Chinese
The full Archibus Help and System Management Help is available in English; a subset of Archibus Help topics are available in:
Spanish

French

German

Italian
See also